All About Us
A little insight into Team TH&TH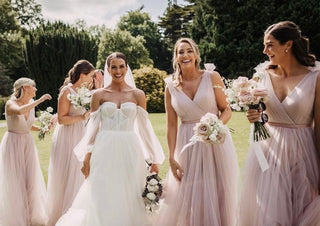 "We're reigniting the Art of dressing up for life's big moments"
Louie, Kitty & Ping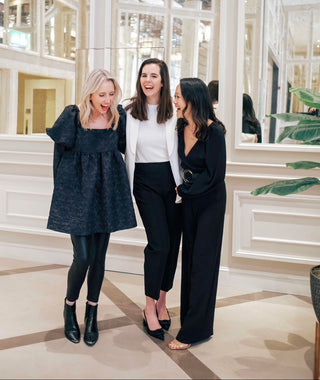 Meet Louie, Kitty & Ping
TH&TH Bridesmaids is the brainchild of three best friends who have been inseparable for over twenty two years. Since they met at Nottingham Trent University, they have been through all of life's ups and downs together, including their weddings, which is where the idea for TH&TH Bridesmaids came about.
Building Our Brand
From the moment founders, Louie, Kitty & Ping met on the first day of their fashion design degree, they knew they wanted to create their own brand. After graduating, they each spent years within the fashion industry, honing their craft in their specialist areas of design, production and commerce.
When Louie was planning her wedding in 2014, struggling to find elegant bridesmaid dresses for her big day, she called upon her best friends to help create the dresses of wedding dreams. The trio went to work sourcing intricate coloured laces and sketching a myriad of designs until the final creations were selected and came to life on Louie's big day. After a bridal magazine got hold of her images after seeing them on social media and asked 'which brand made these incredible bridesmaid dresses', TH&TH was born.
Founding the company with a small pot of savings in the midst of their maternity leave they have organically grown TH&TH and navigated their way to become one of the leading bridesmaids' brands in the U.K.
TH&TH specialises in premium dresses at an accessible price point. Working with suppliers that they have known for over a decade, their collections are developed and produced by a trusted team of specialists with a passion for quality, classical construction techniques and a focus on traditional bridal fabrics such as tulle, chiffon and crepe in pretty pastels and luxurious jewel tones. The high quality of the fabric and the make up of each dress ensures that it can be worn time and time again to different occasions, a key message of the brand is to eliminate the idea that bridal wear can only be worn on a wedding day.
Meet the team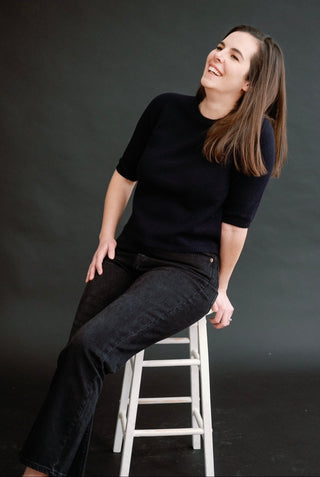 Louie Tew
Louie is the commercial force behind TH&TH. With a background in fashion management and a passion for customer service & occasionwear, Louie seized on the opportunity to create a brand that combined timeless elegance with modern design. Drawing on her experience working with high-end fashion labels such as Oscar De La Renta and Temperely, she has built on her knowledge of what it takes to create a beautiful, desired and principled brand.
Louie lives in Leamington Spa with her husband and 2 children. You will often find her obsessing over Baked Ziti or scouring marketplaces for furniture bargains. Usually found listening to 00's west coast Hip Hop.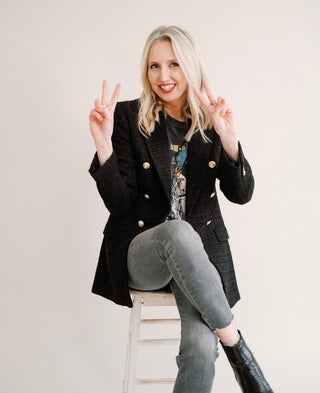 Kitty Dickerson Firth
As TH&TH's Design Director, Kitty's vision has helped the brand grow into a global success. Her ability to blend classic styles with modern trends has made TH&TH Bridesmaids a favourite of brides and bridesmaids all over the world.
Kitty is constantly pushing the boundaries of bridal fashion, experimenting with new materials, cuts, and styles to create dresses that are both beautiful and unique. Her attention to detail and commitment to quality is evident in every gown that she creates, and she is proud to be a part of one of the most important days in a woman's life.
Kitty lives in Nottinghamshire with her husband and 2 children and Basset Hound Elvis. She lived in NYC for 8 years. Loves leopard print and would love to sneak a print into a collection one day. Happiest when listening to old school classics.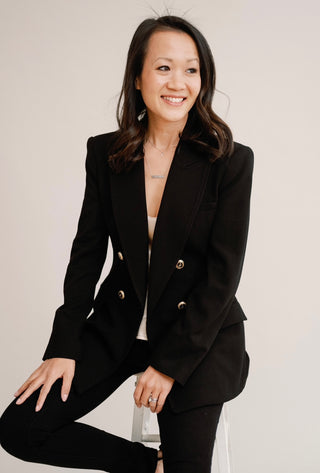 Ping Nong
Ping's unique aesthetic drives her role of Creative Director from her base in Hong Kong. Ping played a crucial role in bringing TH&TH Bridesmaids to life by facilitating relationships with the production team. She manages the company's finances, oversees production, and contributes to the brand's design and creative direction.
With 20 years of expertise in production and design Ping has helped the brand grow and expand its reach, and her financial acumen has ensured the company's continued success.
Ping lives in Hong Kong with her husband, three children and dog Chance. She met her husband whilst learning to scuba dive. Will usually be found listening to 90's R&B. Loves everything minimal and monochrome.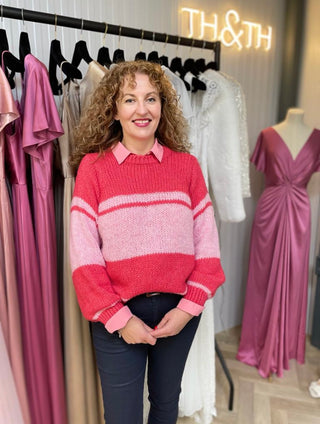 Lee Byrne
Lee is our customer experience angel. She always goes above and beyond, ensuring you get personalized attention and a seamless shopping experience. She is ready to answer any question you may have and will bend over backwards to solve any query.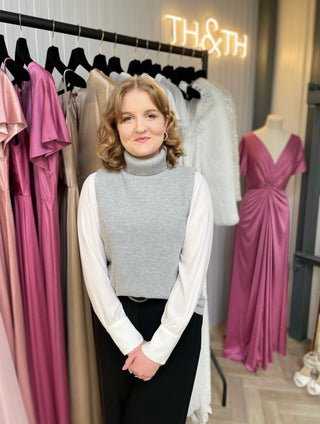 Grace Lawson
Grace is our Brand & Sales Assistant brand who has recently joined the team after graduating from De Monfort University with a degree in Contour Design.
Grace looks after our brides & bridesmaids who visit our Leamington Spa showroom and will be on hand to give you all the details and advice on our collection.
Rachel Burden
Rachel is our wonderful Fulfilment Assistant and responsible packing your beautiful orders and shipping them out to you.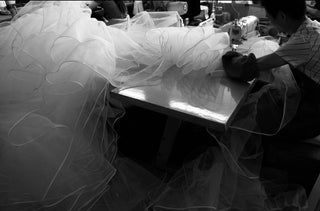 Our Ethos
Social Impact
Our team works hard to ensure we are creating a brand that is constantly in conversation with the world around us. Respecting the people who support our growth and the environment in which we work
OUR CULTURE
TH&TH is an abbreviation for To Have & To Hold, we create beautiful dresses that live beyond the wedding day. Creations you will have and hold forever.
We believe in products and experiences that deliver joy and happiness. Shopping for bridal wear for yourself and your friends should be easy, fuss free and full of delight.
OUR RAW MATERIALS
To create beautiful, ethereal looks TH&TH use polyester for most dresses. We have been trying to source recycled polyester but this sadly is out of reach for tiny brands like us who only produce small runs, as the minimum order quantities are huge. This is something we are calling for each season with the fabric mills that supply recycled options. We don't think it is fair for only the larger brands to monopolise these fabrics so will continue on our mission to source recycled options.
OUR DESIGN
TH&TH design all of our dresses from scratch, Kitty & Ping are the creative design force behind the brand and work hand in hand with their incredible manufacturing team in Hong Kong and China.
OUR MANUFACTURING
TH&TH are proud to partner with our Chinese manufacturer. Our Co Founder Ping has worked with our production team for over 15 years and has built up strong relationship. We are so thankful to have found a production team that are like a second family. When we started our own line we knew they were the only ones.
TH&TH visit their production team often and love bringing the creative and technical together to form their collections.
OUR FOOTPRINT
Every season TH&TH are striving towards a more sustainable business. We do not mass produce so there is always a fine balance of price vs offsetting but we do our best to ensure we are creating a brand that is constantly in conversation with the world around us. We recycle all of our waste where possible and can now proudly say we now solely ship all of our production by sea. We are slowly removing all single use non recyclable plastic from our supply chain too. We are committed to do better.
Learn About our Manufacturer
Our manufacturer is BSCI certified.
"The amfori BSCI Code of Conduct draws on important international labour standards protecting workers' rights such as International Labour Organization (ILO) conventions and declarations, the United Nations (UN) Guiding Principles on Business and Human Rights as well as guidelines for multinational enterprises of the Organization for Economic Co-operation and Development (OECD).
It sets out 11 core labour rights, which participants and their business partners commit to implementing within their supply chains in a step-by-step development approach."
The Rights of Freedom of Association and Collective Bargaining
Our enterprise respects the right of workers to form unions or other kinds of worker's associations and to engage in collective bargaining.
Fair Remuneration
Our enterprise respects the right of workers to receive fair remuneration.
Occupational Health and Safety
Our enterprise ensures a healthy and safe working environment, assessing risk and taking all necessary measures to eliminate or reduce it.
Special Protection for Young Workers
Our enterprise provides special protection to any workers that are not yet adults.
No Bonded Labour
Our enterprise does not engage in any form of forced servitude, trafficked or non-voluntary labour.
Ethical Business Behaviour
Our enterprise does not tolerate any acts of corruption, extortion, embezzlement or bribery.
No Discrimination
Our enterprise provides equal opportunities and does not discriminate against workers.
Decent Working Hours
Our enterprise observes the law regarding hours of work.
No Child Labour
Our enterprise does not hire any worker below the legal minimum age.
No Precarious Employment
Our enterprise hires workers on the basis of documented contracts according to the law.
Protection of the Environment
Our enterprise takes the necessary measures to avoid environmental degradation.